Welcome to the Seorank90's SEO services on Legiit.
I am very happy to share with you our new updated Web 2.0 Minisite service which is now even better than before.
WEB2.0 minisites have a great impact on your website SEO. As the WEB2.0 sites have a high DA and PA, they pass authoritative do-follow backlinks to your website.
We have added a bunch of additional features with the WEB2.0 minisites this time. These features will give more authority to the sites that we will build.
Moreover, A mini-site strategy is relatively affordable and effective. This is why it should have a definite place in the SEO strategy of every business. Large investments aren't critical to success here: the trick is having a winning strategy and the appropriate execution of the strategy.
***We Submit all the WEB2.0s in Premium Indexer to ensure the fastest results***
Features that we added:
Unique videos that are only made for your business
Unique Articles related to your business
Embedded Map
Eye-catchy infographics
Dofollow backlinks with Anchor
Images Geotagging
Main Social Profiles Interlinked
All the WEB2.0s interlinked with each other
We will ensure the best quality for the minisites and will use our own technique to ensure fast indexing of the WEB2.0s.
Benefits that you will get:
Will get high authority backlinks for your website that will make your backlink profile stronger
Will get a boost on SERP for targeted keywords
Will get Unique videos that are built only for your business and can use them anywhere you want.
Will get a boost on your GBP as we will embed the map location for your business.

Here are some testimonials ​​​​​​​ for Seorank90's services: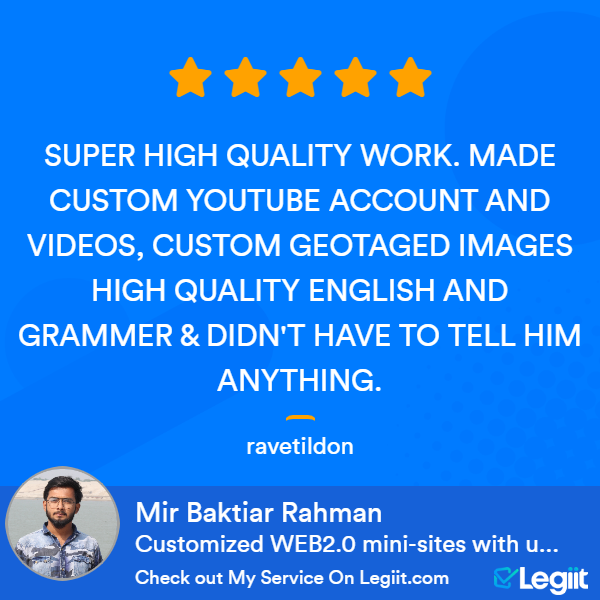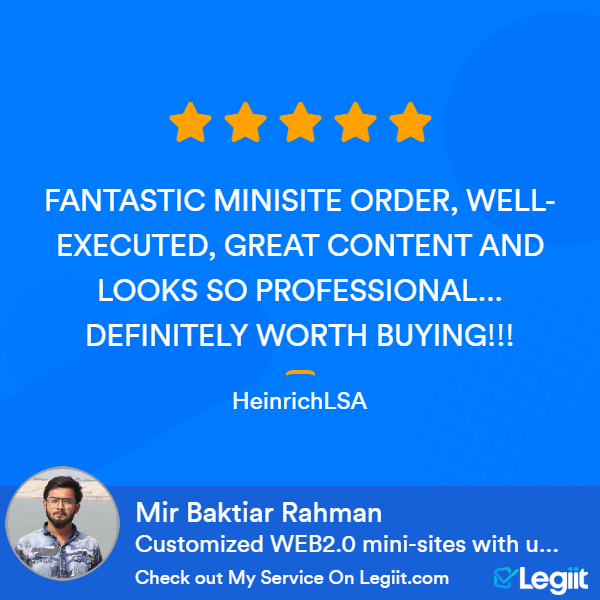 So, if you want to get the amazing designed WEB2.0 minisites with a bunch of unique content done for your business then without further due order now and If you have any questions to ask me, feel free to ping me on Legiit.
Best Regards,