Not Able to Rank? You're Picking the Wrong Keywords.
According to an Ahrefs billion page study, 90.63% of web pages are invisible to Google.
They receive no organic search traffic. Invisible.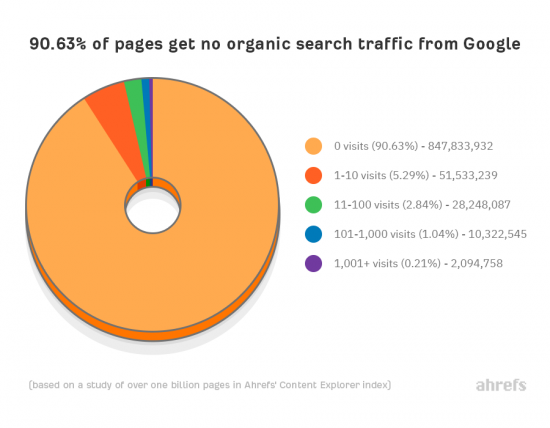 Did you hear the story about Ellen?
Ellen was struggling to get her brand new site to rank. A matter fact, she had only made ~$50 and it's been months of work.
After she learned about the KGR method she went all in and published nothing but KGR for six weeks.
When the six weeks was over she went for 300 visitors per day to over 600 visitors per day.
But the best part?
The KGR content she spent six weeks writing made her over $500 in a month.
Since the KGR focuses on underserved keywords she will continue to keep the rank of those pages and continue to make money.
She went from invisible to visible.
Do you have the time to research all these keywords?
The Keyword Golden Ratio is a data-driven strategy for finding long-tail keywords that are underserved on the internet (i.e. greater demand for the content than supply).
These keywords can often be ranked in the top 10 in less than a month if you follow this rule:
The KGR must be less than 0.25.
The ratio is this…
The number of Google results that have the keyword phrase in the title divided by the local monthly search volume, where the Local Monthy Searches is less than 250.
If the KGR is less than 0.25, then you should rank in the top 100 when your page is indexed.
If KGR is less than 0.25: You should rank in the top 100 once your page is indexed by Google.
If KGR is between .25 and 1: You should still rank in the top 250 pretty quickly.
If KGR is greater than 1: You know it's a more competitive term even though the search volume is quite low (under 250).
If you're just starting out, I strongly recommend sticking to the formula and targeting terms under 0.25.
Of course you don't have time for all that. That's why you're on Legiit!
Here's why you need to implement KGR on your invisibvle site.
1. Stay Motivated
Creating a successful niche site doesn't happen overnight, but new website owners need to see small wins early to stay motivated. Seeing site visitors and sales (cha-ching!) early proves that all your hard work CAN pay off.
2. Prioritize Effort
Instead of throwing darts at thousands of keywords blindfolded, you can prioritize which keywords and content to publish first. KGR helps narrow down your list and target low-hanging fruit phrases for which you'll actually be competitive.
3. Be Objective
Trusting your gut is fine for many things, but keyword research isn't one of them. (At least, not early on.) Applying a consistent data-driven formula gives you realistic expectations for how every keyword phrase you target should actually perform.
4. Stand Out
Since calculating KGR is a manual process, most people (including your competitors) won't bother. You'll have access to rich data they can't simply pull up on a free web tool in a couple minutes.
5. Leapfrog Competitors
Few things are more motivational than seeing your site rank above big-name competitors in Google's SERP results.
Go ahead and look at my packages. Find the one you're ready to commit to and click that green button to get started.
Please note in order to qualify for a KGR term the search volume must be less than 250 searches per month. You will recieve keywords with search volume less than 250.
My guarantee: If you are not satisfied with your order I will completely re-do it or you will receive a refund.
So what are you waiting for?
Find the one you're ready to commit to and click that green button to get started.